I've read some truly amazing books in the last couple of years, before I started this book review blog. And not only do I want to reread them so I can revel in their amazingness (not a word, but still relevant), but also so that I can review them and convince other people to read them.
This list is in no particular order, and these books WILL be reviewed at some time on this blog, so keep an eye out for them.

1.The Secret History by Donna Tartt
Richard Papen arrived at Hampden College in New England and was quickly seduced by an elite group of five students, all Greek scholars, all worldly, self-assured, and, at first glance, all highly unapproachable. As Richard is drawn into their inner circle, he learns a terrifying secret that binds them to one another…a secret about an incident in the woods in the dead of night where an ancient rite was brought to brutal life…and led to a gruesome death. And that was just the beginning….
This book is THE campus novel to read. Much like Brigid Delaney's Wild Things, this novel is set in the confines of a university campus. Together, the students plot and murder one of their friends (this is revealed in the opening chapter, so I'm not spoiling anything by telling you). Half of the book is about explaining/showing why (and how) they murdered him, and then the second half of the novel is about them trying to get away with murder. And it's amazing, raw, emotive, and gripping all at once.

2.Rebecca by Daphne dy Maurier
The novel begins in Monte Carlo, where our heroine is swept off her feet by the dashing widower Maxim de Winter and his sudden proposal of marriage. Orphaned and working as a lady's maid, she can barely believe her luck. It is only when they arrive at his massive country estate that she realizes how large a shadow his late wife will cast over their lives–presenting her with a lingering evil that threatens to destroy their marriage from beyond the grave.
I was forced to read this in English class in high school, and usually I hate any book that I'm forced to read, but I loved this one. There's something about the naivety of the main character (who remains unnamed) and the almost historical romance between her and Maxim de Winter – can we all please have a moment of respect for that character name? I couldn't even come up with a pseudonym that good. The book is spooky, mysterious, and shocking until the end.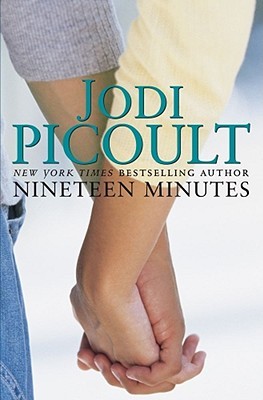 3.Nineteen Minutes by Jodi Picoult
Sterling is an ordinary New Hampshire town where nothing ever happens–until the day its complacency is shattered by an act of violence. Josie Cormier, the daughter of the judge sitting on the case, should be the state's best witness, but she can't remember what happened before her very own eyes–or can she? As the trial progresses, fault lines between the high school and the adult community begin to show–destroying the closest of friendships and families.
This is probably my favourite Jodi Picoult novel (apart from Leaving Time) and it's an emotionally gut-wrenching story about a high school shooting. The novel flicks back and forth between 'before' the shooting and 'after' the shooting. The characters are three dimensional and fleshed out and the reader ends up sympathising with the shooter. But there's a twist at the end that you'll probably see coming – sorry Jodi, it's the one fault I can find with this novel.

4.The Girl with the Dragon Tattoo by Stiegg Larsson
Mikael Blomkvist, a once-respected financial journalist, watches his professional life rapidly crumble around him. Prospects appear bleak until an unexpected (and unsettling) offer to resurrect his name is extended by an old-school titan of Swedish industry. The catch—and there's always a catch—is that Blomkvist must first spend a year researching a mysterious disappearance that has remained unsolved for nearly four decades. With few other options, he accepts and enlists the help of investigator Lisbeth Salander, a misunderstood genius with a cache of authority issues. Little is as it seems in Larsson's novel, but there is at least one constant: you really don't want to mess with the girl with the dragon tattoo.
This book is shocking, haunting, and gripping. The mysterious disappearance from forty years earlier is intriguing and you'll be desperate to find out what happened. I recommended this book to my sister after I read it, but I had to include a disclaimer of 'the first 50 pages are so boring'. So boring! So if you are going to trust this list and read this book, please remember to just push yourself through the first 50 pages. After that, you'll be glad you did.

5. The Virgin Suicides by Jeffrey Eugenides
The shocking thing about the girls was how nearly normal they seemed when their mother let them out for the one and only date of their lives. Twenty years on, their enigmatic personalities are embalmed in the memories of the boys who worshipped them and who now recall their shared adolescence: the brassiere draped over a crucifix belonging to the promiscuous Lux; the sisters' breathtaking appearance on the night of the dance; and the sultry, sleepy street across which they watched a family disintegrate and fragile lives disappear.
I had to read this book for a subject at university, and it's now one of my favourite novels. It's about five sisters who all commit suicide in the same year. It completely broke the boundaries of writing, and Jeffrey Eugenides did it in such a thought-provoking way. The voyeuristic nature of how this story is told is captivating and unique and moving. I couldn't put the book down until I'd finished it, and then I was in a semi comatose state while I tried to process what happened at the end. This book is pure genius, and will be considered a literary classic in future university subjects.