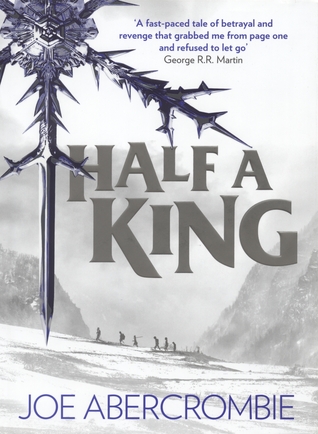 I swore an oath to be avenged on the killers of my father. I may be half a man, but I swore a whole oath
Prince Yarvi has vowed to regain a throne he never wanted. But first he must survive cruelty, chains and the bitter waters of the Shattered Sea itself. And he must do it all with only one good hand.

The deceived will become the deceiver
Born a weakling in the eyes of his father, Yarvi is alone in a world where a strong arm and a cold heart rule. He cannot grip a shield or swing an axe, so he must sharpen his mind to a deadly edge.

The betrayed will become the betrayer
Gathering a strange fellowship of the outcast and the lost, he finds they can do more to help him become the man he needs to be than any court of nobles could.

Will the usurped become the usurper?
But even with loyal friends at his side, Yarvi's path may end as it began – in twists, and traps and tragedy…
Finally! A fantasy book that isn't too heavy. I love the fantasy genre, but sometimes a journey doesn't need to take 200 pages, nor does the description of lineage. And Joe Abercrombie's Half a King is just over 300 pages, and is fast-paced and easy to read.
When I say 'easy to read', I mean that the story isn't bogged down with too much description and detail, the main character is three dimensional and therefore relatable, and the events that occur in the novel are realistic and believable. Yarvi isn't the most handsome or skilled protagonist, and that's what makes the reader sympathetic towards him. We (the reader) are subjected to his thoughts, doubts and his insecurities, and we keep reading the book because of it.
Joe has written the crowded scenes well – when I say 'crowded' I mean scenes with around ten characters in it (also known as Yarvi's oar buddies when he's a slave on a ship). As a writer, it's hard to capture ten different voices and make them stand out to the reader. It's easy to overcomplicate the exchanges and have the reader confused and desperately flicking back and forth through the pages trying to understand who is saying what. I have great respect to Joe for being able to write those scenes in an easy-to-read way.
There is one negative thing I'll note about the book. Sometimes the point of view jumps into other heads, which is unnecessary. Although the book is written in third person, it's mostly focused on Yarvi, so we come to understand his thoughts and feelings. However, occasionally, other characters will be focused on and a sentence or two about their feelings will be featured. This jolts the reader a little and makes them detract themselves from the book.
I'd recommend this book not just for fantasy readers, but for YA readers as well. It's amazing, and deserves a 10/10 rating. I look forward to reading the second in the series, Half the World (coming out in February 2015).
My Score: 10/10
Buy HERE