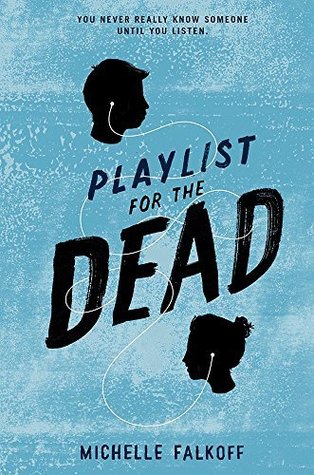 Here's what Sam knows: There was a party. There was a fight. The next morning, his best friend, Hayden, was dead. And all he left Sam was a playlist of songs, and a suicide note: For Sam—listen and you'll understand.

As he listens to song after song, Sam tries to face up to what happened the night Hayden killed himself. But it's only by taking out his earbuds and opening his eyes to the people around him that he will finally be able to piece together his best friend's story. And maybe have a chance to change his own.
I think this is the first YA novel I've read in a long time where the main character is male – it was refreshing. Sam is confused and hurt at the beginning of the novel. His best friend is dead, and as the novel progresses and he meets people who knew Hayden, he realises that perhaps he didn't know his best friend as well as he thought he did.
This book is flawed, but it does build suspense well and it does intrigue the reader to want to keep reading. Sam knows more about the night before Hayden died than he tells us, so we keep reading because we too want to know why Hayden killed himself.
The songs in this book were kind of irrelevant. The playlist was supposed to help Sam understand why Hayden killed himself. But he listened to them, pondered the lyrics, and then moved on. So, you could've taken the songs and the playlist out of the entire story and the novel would've been fine, which is not a good thing.
I don't think the playlist really helped Sam at all – the characters did. Their interactions with Hayden and their social experiences with Sam helped him understand it all and attempt to move on. That being said, the characters in this novel seemed like cardboard cut outs. Sure, I kept reading because I was curious, but I was not reading because I sympathised for the characters. I didn't really feel anything for them, to be honest. Sam told us all about his feelings and his thoughts and his doubts, and I think that this can stop the reader from actually caring for him.
The character's motivations seemed impulsive and without authenticity. I think that the author was so determined to construct a mystery around Hayden's death and the three bullies that she forgot to construct a more three dimensional protagonist.