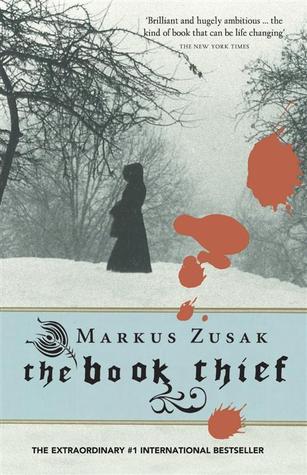 It is 1939. Nazi Germany. The country is holding its breath. Death has never been busier, and will become busier still. By her brother's graveside, Liesel's life is changed when she picks up a single object, partially hidden in the snow. It is The Gravedigger's Handbook, left there by accident, and it is her first act of book thievery. So begins a love affair with books and words, as Liesel, with the help of her accordion-playing foster father, learns to read. Soon she is stealing books from Nazi book-burnings, the mayor's wife's library, wherever there are books to be found. But these are dangerous times. When Liesel's foster family hides a Jewish fist-fighter in their basement, Liesel's world is both opened up, and closed down.
This was a re-read for me, and I finished it just prior to Dymocks announcing that The Book Thief had topped the Top 101 books list.
This story is amazing, and extremely difficult to review. Even when I give something a 10/10, I try to point out at least one fault in the story, because not every story is perfect, right? Wrong! This novel is beautifully written, and uses subtly to highlight the horror of the Holocaust and the immense loss of life – the line 'death has never been busier' achieves this all by itself.
The unique thing about this book is that it's written from the point of view of Death as he travels across Nazi Germany and collects souls during the Holocaust. His point of view allows for a reverent tale. He's honest, and he travels around to showcase different characters. I liked that Death would mention things that would eventually happen to a character – it would completely blindside the reader. Death liked to talk about someone in the story, and then give a fleeting mention on how they're going to die, or when, or even if they're going to die soon. This intrigues the reader and propels the story forward.
This book is sad. Because of Death's narration (and his foretelling), you know that certain characters are going to die, but you just don't know when or how. And waiting for that is both a cruel and genius writing technique.
The character development is definitely one of the strengths of this novel. Leisel grows to love her foster parents, who have many flaws, and they grow to acknowledge the injustice surrounding them. Leisel and Max bond over storytelling and writing, and Leisel's best friend Rudy helps to show a different side of Leisel – she's determined, bold, and she knows what she wants. She evolves throughout the story, and stops being so timid and naïve.
I recommend this novel to everyone. It's fantastic, and it's something you should keep on your bookshelf for a reread.