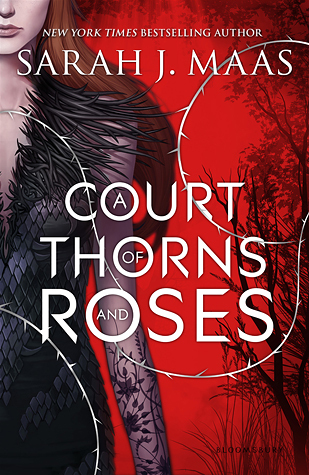 When nineteen-year-old huntress Feyre kills a wolf in the woods, a beast-like creature arrives to demand retribution for it. Dragged to a treacherous magical land she only knows about from legends, Feyre discovers that her captor is not an animal, but Tamlin—one of the lethal, immortal faeries who once ruled their world.

As she dwells on his estate, her feelings for Tamlin transform from icy hostility into a fiery passion that burns through every lie and warning she's been told about the beautiful, dangerous world of the Fae. But an ancient, wicked shadow grows over the faerie lands, and Feyre must find a way to stop it . . . or doom Tamlin—and his world—forever.
A Court of Thorns and Roses was a letdown for me. I allowed all of the Twitter/blogger hype for this book to give me expectations that the book just couldn't live up to. Truthfully, I think that fans of Sarah J. Maas are going to love whatever book she writes simply because her Throne of Glass series is so popular.
I hate to start with negatives, but there were three major things I hated about this book:
1.The premise is not believable
2.The 'threat' doesn't exist until the end
3.The love interest doesn't seem real and their connection doesn't seem believable
Let me explain in detail. Feyre (main character) kills a wolf in the woods, but this wolf is actually a faerie. And when his friend, Tamlin, comes looking for revenge, instead of killing Feyrie, he invites her back to his house with him. She is fed amazing food and is cared for and she allowed to paint whatever she wants and they vow to keep her safe. AND her family is taken care of. What? Huh? She killed someone! That's the worst punishment ever! And even though the reason Tamlin did this is explained later in the novel, it just doesn't make any sense. Plus the explanation came a little too late in the novel, AND it was revealed via a servant girl's monologue. Such a cheap way to reveal it!
Secondly, the only villain in the entire book doesn't actually appear until the final 50 pages. So, the first 90% of the novel is so slow. It's almost like the first 90% of the book functions as a love story, except this love story is ridiculous and unrealistic (will explain this in the next paragraph). The evil queen is a rich character who is actually a great villain, but she comes into the story way too late and at that point, you know she's not going to win. And that entire section of the book where Feyrie has to pass three tests and figure out the queen's riddle is fantastic. It's a shame it didn't start earlier on.
Lastly, Tamlin is a two dimensional character with no depth. I didn't actually feel like I understood his character, and therefore I wasn't cheering for him and Feyrie to get together. When she challenges the evil queen in order to save Tamlin, I was like meh. Who cares. Moving on. His role in the novel seemed generic, and he seemed too distant to be understood.
There were some redeeming qualities in this novel. Lucien is a way more interesting character than Tamlin – he's witty and funny, and provides a different dynamic to the novel. Also, A Court of Thrones and Roses does open up a lot to be explored in the rest of the trilogy. I just hope the plot for books 2 and 3 is a little more fast-paced.