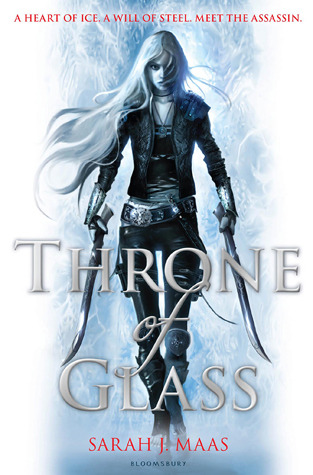 After serving out a year of hard labor in the salt mines of Endovier for her crimes, 18-year-old assassin Celaena Sardothien is dragged before the Crown Prince. Prince Dorian offers her her freedom on one condition: she must act as his champion in a competition to find a new royal assassin.

Her opponents are men-thieves and assassins and warriors from across the empire, each sponsored by a member of the king's council. If she beats her opponents in a series of eliminations, she'll serve the kingdom for three years and then be granted her freedom. Celaena finds her training sessions with the captain of the guard, Westfall, challenging and exhilirating. But she's bored stiff by court life. Things get a little more interesting when the prince starts to show interest in her… but it's the gruff Captain Westfall who seems to understand her best.

Then one of the other contestants turns up dead… quickly followed by another. Can Celaena figure out who the killer is before she becomes a victim? As the young assassin investigates, her search leads her to discover a greater destiny than she could possibly have imagined.
This book is fantastic — an intriguing premise, three-dimensional characters and an unfolding plot that sucks you in and makes you desperate for the next book in the series.
Celaena is a wonderful main character. She's confident, talented and in this high fantasy setting, can fend for her own. At times she's a little up herself, but she is an assassin. She'd have to be confident in her own appearance and abilities to be an assassin. Celaena is witting, sarcastic, confident and very likeable. She says what she thinks and isn't afraid of the consequences. She doesn't need to lean on anyone for support and has the backbone to stand up for herself, even when she shouldn't.
This book is high fantasy, but not at first. At the beginning, it almost seems to be a YA dystopian book, until one of the characters ends up dead, and then another and another. And soon, Celaena is discovering that there's mythological beings beyond the castle walls that can kill her.
The plot develops and unfolds at a realistic and believable pace — nothing moves too quickly and nobody's actions seem unjustified. The chemistry between Celaena and Dorian and also Celaena and Chaol helps push the story along. They form a love triangle, and by the end of the novel, it's hard to tell who she will end up with. Prince Dorian is one of those characters who redeems himself throughout the novel — he seems to be a spoilt, womanising prince at the start, but as his personality is revealed, the reader starts to sympathise for him and they come to understand him. This love triangle has been written so well that it doesn't seem to overpower the main storyline. The chemistry between Celaena and the two male characters is interspersed subtly into chapters that focus on the 'bigger picture'.
Sarah J. Maas has created a brilliant high fantasy sequel that both YA and adult audiences could love.Throne of Glass is open-ended, and once I finished it, I was desperate to go out and buy the next book in the series, Crown of Midnight. No doubt I'll be reviewing the entire series on this blog.
My Score: 9/10