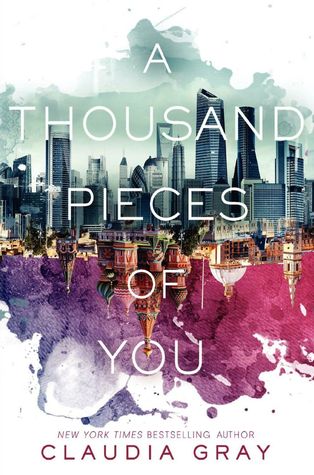 Marguerite Caine's physicist parents are known for their radical scientific achievements. Their most astonishing invention: the Firebird, which allows users to jump into parallel universes, some vastly altered from our own. But when Marguerite's father is murdered, the killer—her parent's handsome and enigmatic assistant Paul—escapes into another dimension before the law can touch him.

Marguerite can't let the man who destroyed her family go free, and she races after Paul through different universes, where their lives entangle in increasingly familiar ways. With each encounter she begins to question Paul's guilt—and her own heart. Soon she discovers the truth behind her father's death is more sinister than she ever could have imagined.
This book is amazing, but let us first talk about the cover. Has anyone seen anything so vivid before? It's definitely the best jacket I've seen for a YA novel. I love the colours and the layout, and it really gives the reader a sense of what the book is going to be about. Kudos to whoever designed that cover!
Now that I've mentioned the cover, I can talk about the actual book. The storyline is unique and I loved it. Claudia really mapped out the dimensions and the logistics involved to jump between the different dimensions. It's an interesting twist that current Marguerite could jump into her own body from a different dimension, but then when she left that body, the real Marguerite would have no memory of what happened. It's brilliant, and very interesting for the reader. I really want to see where the story is going to go in the second book.
The protagonist…could have been developed a little further. She seemed a little immature at times, but then at other times, she seemed way too mature for her age. She's jumping through different dimensions and she watches people die, and yet she seems to have the emotional maturity to handle it?
The firebird necklace was an interesting item, but it all seemed a little too easy to me. Something SO IMPORTANT just hangs around Marguerite's neck, visible to everyone? And then it breaks, but lucky for her, there's two people in that dimension who can fix it? It seemed a little farfetched to me. But despite this, I did love the idea of the different dimensions, and I love love loved the dimension where Marguerite was royalty and Paul was one of her 'employees' (that word doesn't feel quite right given the time period of that dimension).
This is the first book in a YA trilogy, and I can't wait to read the next one! I recommend this book to YA lovers, but also to people who enjoy dystopian or fantasy novels. This book has enough of a supernatural element to it that it'll satisfy those readers who are looking for the next fantasy tale.
My Score: 9/10
Buy HERE