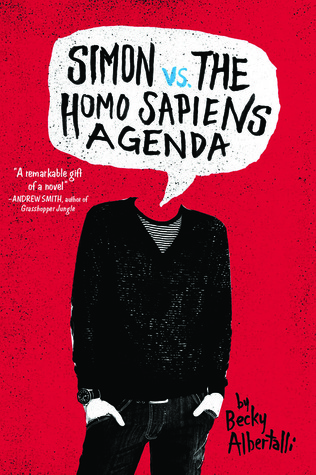 Sixteen-year-old and not-so-openly gay Simon Spier prefers to save his drama for the school musical. But when an email falls into the wrong hands, his secret is at risk of being thrust into the spotlight. Now Simon is actually being blackmailed: if he doesn't play wingman for class clown Martin, his sexual identity will become everyone's business. Worse, the privacy of Blue, the pen name of the boy he's been emailing, will be compromised.

With some messy dynamics emerging in his once tight-knit group of friends, and his email correspondence with Blue growing more flirtatious every day, Simon's junior year has suddenly gotten all kinds of complicated. Now, change-averse Simon has to find a way to step out of his comfort zone before he's pushed out—without alienating his friends, compromising himself, or fumbling a shot at happiness with the most confusing, adorable guy he's never met.
This novel is about an adorable high school romance, but Becky presents it in a unique and interesting way. Simon and Blue go to the same high school and they talk through emails; slowly they start to fall in love with each other. Their emails tell us how difficult it is for them to come out to their family and friends, but how desperately they want to be together in public.This is a unique story. The relationship doesn't develop over Facebook or Twitter, but through emails, which means the story isn't dated and will still be relevant in ten years when Facebook and Twitter have been marginalised by some new social media platform.
The relationship between Simon and Blue seems to develop at a realistic rate – they don't fall in love with each other after one email. They get to know each other (well, as much as they can without revealing who they are to each other) and they share their doubts, fears and concerns. Simon starts to miss Blue when they aren't emailing, and when he is eager to log onto his computer to check his emails, it shows how his feelings have grown.
This book doesn't shy away from homophobia and it highlights how homosexuals can be treated in high school. And Becky accompanies this with light humour and this has the reader smiling and wanting more. The relationship between Simon and Blue is lovely and adorable and I devoured this book in one sitting.
I recommend this book to absolutely everyone, especially if you're having a bad day or a bad week and you desperately need some cheering up.