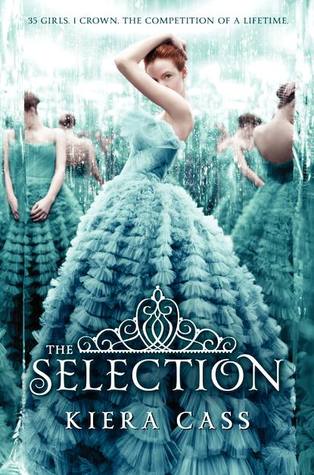 For thirty-five girls, the Selection is the chance of a lifetime. The opportunity to escape the life laid out for them since birth. To be swept up in a world of glittering gowns and priceless jewels. To live in a palace and compete for the heart of gorgeous Prince Maxon.

But for America Singer, being Selected is a nightmare. It means turning her back on her secret love with Aspen, who is a caste below her. Leaving her home to enter a fierce competition for a crown she doesn't want. Living in a palace that is constantly threatened by violent rebel attacks.

Then America meets Prince Maxon. Gradually, she starts to question all the plans she's made for herself—and realizes that the life she's always dreamed of may not compare to a future she never imagined.
This is one of those novels that you don't want to admit you read, but then you do admit it because it's cheesy and fun and cute and a read-in-one-sitting book. This is the book equivalent of Maid in Manhattan, which is a ridiculously cute movie, but since it has J.LO in it and it's one of the cheesiest chick flicks ever made, you don't want to admit you love it. Anyway, back to the review. If you're having a bad day or a bad weekend, The Selection is the book you pick up to distract yourself from the miserable time you're having.
The Selection is a mix between The Hunger Games and The Bachelor. America Singer has to compete for Prince Maxim's heart during the midst of caste turmoil and rebellious fighting. And although it doesn't seem like it in THIS book, but the sequels (The Elite and The One) do give America an opportunity to make a difference in society.
America is feisty and bold and sarcastic and a breath of fresh air. She easily becomes Maxon's favourite, but she's distant, and Maxon can't take his chances with someone who might leave him after winning his heart. This book has everything that makes The Bachelor so fantastic: drama, tension, mystery, emotions, and bitterness. All of the girls argue with each other. There's one girl who everyone dislikes (much like in The Bachelor), and there's outside threats that could harm the main characters (much like in The Hunger Games, or any YA dystopian book for that matter).
Prince Maxon is mysterious and engaging. At times he's a bit of a pushover and a bit of a pansy, but if he and America were both bold and confident and fierce, this book wouldn't work. One of them needs to be a bit weaker in order for their pairing and their interactions to be interesting, and in this book, that weak one is Maxon.
Everyone I've spoken to who has read this book loved it and immediately went on to read the next book. The Selection is a guilty pleasure among YA readers/reviewers, and the book is only a couple of hundred pages, so it's an easy read on a weekend when you don't have the energy to read a book that requires you to think/concentrate.
Snobby readers won't like this book, and by that, I mean readers who "only read literary" or "only read well-written masterpieces". This book may not have the most lyrical writing or the most well-put-together prose, but it has an addictive plot and it's something to cheer you up. I recommend this book to YA readers, but also to any reader who needs a pick-me-up.
My Score: 8/10