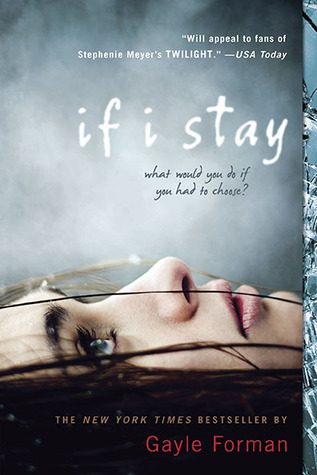 Choices. Seventeen-year-old Mia is faced with some tough ones: Stay true to her first love—music—even if it means losing her boyfriend and leaving her family and friends behind?

Then one February morning Mia goes for a drive with her family, and in an instant, everything changes. Suddenly, all the choices are gone, except one. And it's the only one that matters.

If I Stay is a heartachingly beautiful book about the power of love, the true meaning of family, and the choices we all make.
This is another novel I picked up because I'd heard so much about it on social media. It's a huge hit among the YA book bloggers, and I had high hopes. The writing is well done, and Gayle Forman weaves between present and past effectively. There are moments in the book where you really sympathise with Mia and want to find out what happens. However, there are a lot of flaws as well, and I really struggled to get into the story and the characters.
Some parts of the story are a little unrealistic. Like the part where Mia plays Adam's 'body like a cello' (it sounds sexual, but it's not supposed to be). Cello bow and all. It was cheesy. And cringey. Also, Mia's parents aren't like all parents, either. Not all parents are laidback and encouraging and cool. A lot of reviews I've read of this book are 'OMG I cried so hard I couldn't control myself'. I didn't even come close to crying – when was I supposed to cry?
The novel is called If I Stay because it centres around the idea that Mia can choose if she wants to stay or not. But there doesn't seem to be any dilemma in the novel at all. The whole time she is just telling the reader about her life and then explaining the events as they unfold in the hospital. There seems to be no moral decision plaguing Mia's conscious about staying or going. Also, the ending is slightly predictable.
Mia and Adam's relationship doesn't seem three dimensional – at first, I thought there'd be a twist that he was cheating on her with Kim (re-read the scene where the two of them arrive at the hospital and you'll agree with me). Adam doesn't seem realistic; his actions in the hospital don't really mirror his actions in Mia's memories. It doesn't seem like their relationship is going to last and yet Mia keeps telling the reader how much she cares for him. It seems a little forced.
I'd recommend this book only to regular YA readers who don't care too much for realistic characterisation and plot development.
My Score: 6/10
Buy HERE