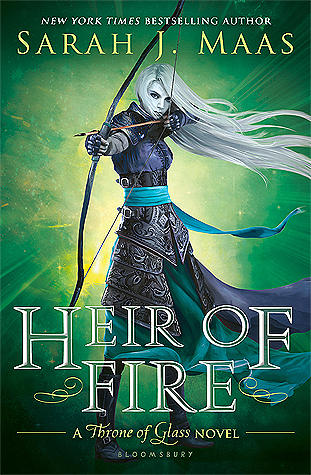 Heir of Fire is the third book in Sarah J. Maas' Throne of Glass series, and this novel is just as fast-paced and fantastic as the first two. I devoured this book in two sittings and then I immediately went and bought the next book in the series because I was desperate to find out what happened.
The book starts where the previous novel, Crown of Midnight, finished. Celaena is lost and broken, but she has survived deadly contests and a shattering heartbreak. She must now travel to a new land to confront the darkest truth about her heritage and avenge the death of her dearest friend. At the same time, Chaol Westfall, who has sent Celaena away to protect her, has finally come to understand who Celaena is and what this means for their land. And now his job is to do all he can to help and protect her, even from afar and even if Celaena has no idea about Chaol's sacrifices.
In Heir of Fire, brutal and monstrous forces are gathering on the horizon, and Celaena undergoes training with the mysterious Rowan Whitehorn to learn how to control her magic and understand who she is meant to be – Queen. Once she comes to understand her true destiny and once she can learn to control her magic, she will become Adarlan's biggest threat – and his toughest enemy.
This is the first time in the series where I really felt like Celaena was starting to grow into her heritage. She becomes very powerful and she uses her intelligence to further her position in this new land and prove herself to Rowan, who is sceptical of her and is extremely unforgiving. Celaena is strong, brutal and resilient and she proves herself once more in this book. Sarah J. Maas has done a fantastic job of building the suspense whilst also uncovering information about Celaena's past. We learn more about what happened to her parents when they died and how Celaena became the prisoner that she was when we met her in the first book, Throne of Glass.
Heir of Fire introduces fierce new characters and rebellions. I particularly loved Manon Blackbeak, who is an Ironteeth witch and the heir to the Blackbeak Witch Clan. She is a marvellous character who is cruel and ruthless, and yet cunning and resourceful. At times she is cold, heartless, scary, uncaring and dominating. But there are times in the story where we see a softer side to her. In this book, she is to choose a wyvern (a beast that she will ride into battle), and she chooses a smaller beast that has been cast aside by others. Manon is laughed at and doubted, but she rises above what those think of her and she uses her intelligence to soar above the competition. This is one of my favourite Manon quotes from the book:
Witches didn't need blood to survive, but humans didn't need wine, either.
I really loved Heir of Fire, and I recommend this series to anyone who is looking to discover something new to read. Sarah J. Maas is a great writer and I can't wait to see where this series heads next.
Read my review of Throne of Glass HERE
Read my review of Crown of Midnight HERE