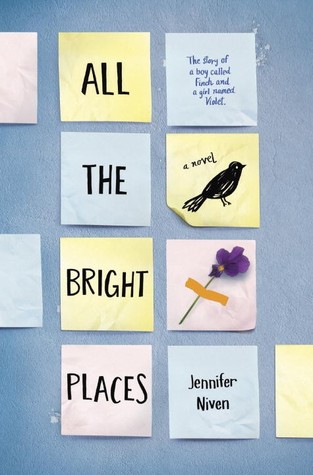 Theodore Finch is fascinated by death, and he constantly thinks of ways he might kill himself. But each time, something good, no matter how small, stops him.

Violet Markey lives for the future, counting the days until graduation, when she can escape her Indiana town and her aching grief in the wake of her sister's recent death.

When Finch and Violet meet on the ledge of the bell tower at school, it's unclear who saves whom. And when they pair up on a project to discover the "natural wonders" of their state, both Finch and Violet make more important discoveries: It's only with Violet that Finch can be himself—a weird, funny, live-out-loud guy who's not such a freak after all. And it's only with Finch that Violet can forget to count away the days and start living them. But as Violet's world grows, Finch's begins to shrink.
For me to write this review, I need to break it down into two sections: plot/story and characters.
PLOT/STORY
I loved the premise of the story and I loved how it developed. Jennifer incorporated suicide, depression and mental illness into All the Bright Places in a unique and realistic way. She makes the reader realise what mental illness and suicide is like not just for the person who is suffering from these thoughts, but for the people who are left behind, because mental illness doesn't just affect the person who has it. It affects their friends and family as well.
All the Bright Places really can't be read in one sitting. It's gut-wrenching and exhausting and horribly sad, and the ending will just about ruin your mood for the rest of your day. This book shows readers how mentally ill people can be treated at school, and how hard it is for them to survive each day amongst that negativity. BUT, this book also shows a different side. Those who are mentally ill are not always easy to spot, and they can be suffering in silence without you knowing.
Jennifer does a fantastic job of orchestrating a collision between two characters who are lost: one who is contemplating suicide, and the other whose sister has died. Violet is constructed as someone who is 'left behind' and is dealing with the aftermath of death. Violet and Theodore each need something from the other — acceptance, understanding, loyalty, friendship, love, and help.
CHARACTERS
The two main characters were a little…slow. Their dialogue — although beautiful and heartbreaking — seemed boring and forced at times. Their relationship progressed at such a slow rate, and although this might be representative of what they're going through in their lives, the author is still writing a young adult novel. If there's going to be a romance, it probably needs to be a little bit more believably paced. At times, it didn't even seem like Violet liked Theodore. Sure, she might have said she liked him, but her actions didn't seem to reciprocate that. I know that she's grieving, but she seemed quite cold to Theodore at times, despite the fact that she had feelings for him.
The novel can be a bit MEH at times. The characters go 'wandering' a lot, and the chapters feel like filler chapters. Their connection doesn't seem that strong and there doesn't seem to be enough chemistry jumping off the page between the two of them. I'll be honest, I got really bored in the middle of the book, and I wished that Jennifer sped up the novel and cut it down to about 100 pages fewer. The characterisation is really strong in the first and final third of the novel, but it lacks in the middle. Although they are both coming to terms with what they want from life, school, family, friends, and each other, the chapters in the middle of the book just seemed to be stagnant and slow-paced and unnecessary at times.
I recommend this to young adult readers.
My Score: 6/10