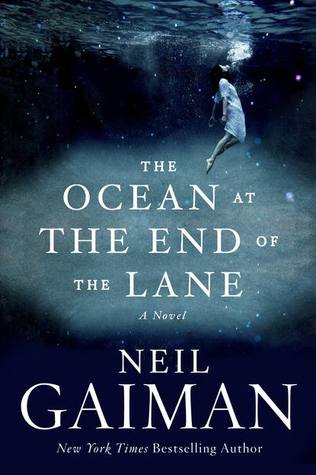 Sussex, England. A middle-aged man returns to his childhood home to attend a funeral. Although the house he lived in is long gone, he is drawn to the farm at the end of the road, where, when he was seven, he encountered a most remarkable girl, Lettie Hempstock, and her mother and grandmother. He hasn't thought of Lettie in decades, and yet as he sits by the pond (a pond that she'd claimed was an ocean) behind the ramshackle old farmhouse, the unremembered past comes flooding back. And it is a past too strange, too frightening, too dangerous to have happened to anyone, let alone a small boy.
I wish that I didn't know this was written by Neil Gaiman until after I'd read it, because I think I made excuses for the storyline based on the fact that the author is NEIL GAIMAN. But in all honesty, what the hell happened in this book? There was fantasy mixed in with reality and it was all a little confusing, and it was hard to work out what was real and what wasn't.
Okay, let's start with the positives. The writing is beautiful. Neil Gaiman can write beautiful, lyrical prose and realistic dialogue. He can construct great characters and he can build upon them with fantastic imagery and description, and the relationships between the main characters seemed authentic and engaging and uniquely brilliant.
But unfortunately, the characters and the quality of the writing were overshadowed by the almost forced (and sometimes unnatural) insertion of fantastical elements into this realistic setting. It detracted from the story, and it stopped me from really appreciating the meaning of the story and the meaning behind the storyline. The fantasy elements stopped me from paying attention to the character relations and the development of the story. I simply read along to find out what happened, but I was no longer as invested in the characters or the story as I was before.
People who love Neil Gaiman will love this book because it's Neil Gaiman. People who haven't read Neil Gaiman might be a bit disappointed with the book. If you're planning on reading this book, then I'll give you one piece of advice: read it with an open mind.
My Score: 6/10