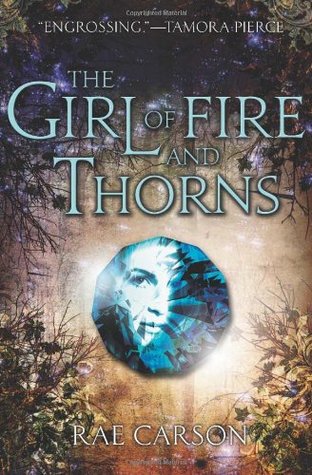 Once a century, one person is chosen for greatness.
Elisa is the chosen one.

But she is also the younger of two princesses, the one who has never done anything remarkable. She can't see how she ever will.

Now, on her sixteenth birthday, she has become the secret wife of a handsome and worldly king—a king whose country is in turmoil. A king who needs the chosen one, not a failure of a princess.

And he's not the only one who seeks her. Savage enemies seething with dark magic are hunting her. A daring, determined revolutionary thinks she could be his people's savior. And he looks at her in a way that no man has ever looked at her before. Soon it is not just her life, but her very heart that is at stake.

Elisa could be everything to those who need her most. If the prophecy is fulfilled. If she finds the power deep within herself. If she doesn't die young. Most of the chosen do.
Firstly, I love that the main character is unlike most fantasy protagonists. She's not beautiful and longed for. She's actually severely overweight, insecure, and has a problem with overeating (which sounds a little funny now that I say this out aloud). It's refreshing to have a main character who is unsure of herself and really doesn't seem like a hero; although, the reader is told this only 50,000 times.
There's a lot of telling in this novel. Elisa doesn't believe herself to be worthy of her Godstone, and she makes it known to the reader whenever she can. And then even when she becomes this 'hero' she doubts herself to be, she still has insecurities and likes to tell the reader about them.
Let's quickly talk about the weight issue, because at times, Elisa is the most unrealistic overweight girl I've encountered (in reality or in a book). There's no indication of why she overeats. It seems she does it because she thinks she should (aka the author wants her to), not because she can't stop. And then the only thing that stops her and helps her lose weight is because she's kidnapped and forced not to eat her usual rations of food. And let's not forget the fact that she doesn't become a 'hero' until after she's thinner and much prettier.
I did like the romance in the story – it was subtle and on the side and it was nice to have a fantasy novel with only a hint of romance. Since this book is also classed as YA, it would've been easy for the author to have the romance between Elisa and one of her captors as a central part of the story. But it wasn't, and I applaud Rae Carson for that.
The best part about this story is the plot and the pace; the world-building is believable and Rae reveals just enough to make us want more, but leaves enough to our imagination so that we want to keep reading the series to find out what happens to all the characters.
I recommend this novel to fantasy and YA readers who are looking for plot and not for character development and/or character believability.
My Score: 7/10
Buy HERE