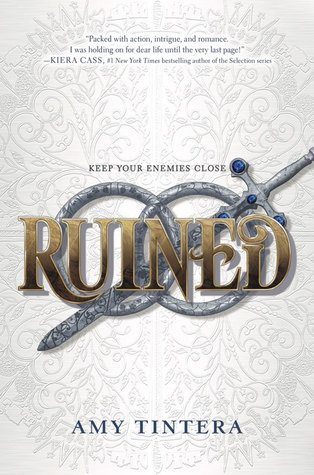 Amy Tintera's latest novel, Ruined, is a revenge tale and is the first in a new series. Following on from the success of her previous novels Reboot and Rebel, Amy's new novel Ruined is a fantastic blend fantasy and young adult, perfect for younger readers and older, fantasy readers and readers new to the genre.
The main character is Emelina, who is bold, sassy, confident and a wonderful protagonist. She is also a ruined – she is completely void of magic. Her home in Ruina has been ravaged by war, her parents have been murdered by their enemy kingdom Lera, and Em's sister has been abducted. She is on a mission to find her sister, rescue her, and plot revenge on the royal family of Lera.
Em has nothing left, but that also means that she has nothing to lose. She must infiltrate the royal family, and she does this by murdering a young girl who is travelling to Lera to marry the royal prince. Em impersonates the girl and marries Prince Casimir, who is next in line to take the throne of Lera. And from within the castle walls begins a story filled with betrayal, conspiracies, romance, bloody battles, and a sword-wielding warrior heroine.
Em and Casimir are wonderful characters who grow quite close over the course of the novel. They mould well together and Amy has written them with vivid descriptions and realistic dialogue so the reader can empathise with both of them. Em and Casimir both have different objectives in the novel. Em is out for revenge and Casimir is learning how to take over the kingdom from his father. He is both sympathetic and empathetic, and Em works to sway his opinion on matters involving the Ruined. She is not always subtle about it, but that speaks to her character. She is opinionated and daring and she doesn't think of consequences before taking action.
Despite the fact that Em's alliance to Ruina is slightly obvious in some parts and Casimir somehow doesn't suspect her of being disloyal to the kingdom, Ruined moves fast and the characters travel outside the castle, keeping the story interesting and keeping the reader enthralled and desperate to find out what happens next. The story propels forward at a faster rate than most fantasy novels, and works well to keep the reader engaged and entertained.