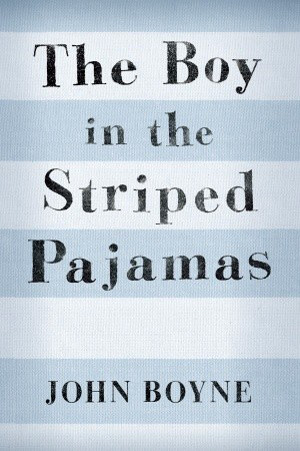 Berlin, 1942: When Bruno returns home from school one day, he discovers that his belongings are being packed in crates. His father has received a promotion and the family must move to a new house far, far away, where there is no one to play with and nothing to do. A tall fence stretches as far as the eye can see and cuts him off from the strange people in the distance.

But Bruno longs to be an explorer and decides that there must be more to this desolate new place than meets the eye. While exploring his new environment, he meets another boy whose life and circumstances are very different from his own, and their meeting results in a friendship that has devastating consequences.
This is such a heartbreaking novel, not just for children but for adults. It captures perfectly the absurdity of the Nazi concentration camps, and the innocence that was lost.
The story moves forward quite quickly. Bruno and his family move to Poland because of his father's new job, and he struggles to settle into his new life. His sister is cruel and it is quite obvious that she – unlike her brother – really does understand what Auschwitz is. Bruno feels isolated and learns to explore, and it is this that propels the story forward at a seemingly fast pace.
John Boyne has written this story through the eyes of a young child – Nazi Germany is seen through Bruno, who is trying to grow up within such a harsh and unrelenting time in history. He befriends a boy of the same age in the concentration camp next to his house, and the two become friends.
Their friendship is sweet – he brings food for his friend and they talk about trivial things. They learn to enjoy each other's time, but throughout the entire novel, there's a sense of dread. Somehow, you know that this story won't end well and John Boyne achieves this by writing the main character as an extremely naive young boy. Bruno does not catch on to what Auschwitz really is, and does not understand why his new friend wears striped pajamas. Bruno does not really understand what his father's job is, or why his friend is so skinny and doesn't get fed.
This novel shows Nazi Germany in a subtle way because Bruno does not understand what he's experiencing, therefore he does not dwell on it. Particular aspects of his life are described in short paragraphs because Bruno does not think them to be important, and it is this kind of storytelling that makes this novel so powerful and eye-opening.