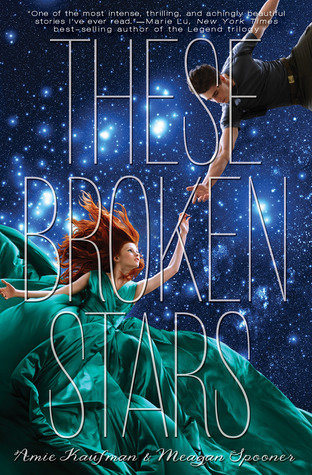 These Broken Stars is the first book in a trilogy by duo Amie Kaufman and Meagan Spooner. A perfect blend of young adult, fantasy, and science fiction, These Broken Stars presents a unique and interesting world. Luxury spaceliner Icarus suddenly plummets from hyperspace into the nearest planet. The main characters, Lilac Laroux and Tarver Merendsen, miraculously survive and must work together to stay alive on this uninhabited, deserted terrain.
Lilac is the daughter of the richest man in the universe and Tarver is just a war hero, but without the recognition he deserves. They bicker, disagree, and they struggle to stand each other. But they have a common goal: survive. And the entire book is shaped around this sole desire.
Amie and Meagan have put two characters together who are very different, and the authors have forced them to work together. They're in a deserted location with the possibility of death, and the experience changes them. They grow over the course of the novel, and they are fast at observing abnormalities about this strange new world that they're now trying to survive in. Lilac and Tarver soon realise that something shocking happened here, and they work to uncover it.
The sunlight feels pale and cold, but I know it's the only thing standing between us and a much bigger problem. A problem we'll face when the sun starts to sink.
Amie and Meagan have written an engaging, intriguing and well-written novel, filled with diverse characters and beautiful prose. Sometimes the pace seems a little slow, and sometimes Lilac seems too spoilt, but this is necessary. Lilac is like that because of the family she's from, and the pace of the book sometimes feels slow because they're the only two people in this terrain and the reader knows something is just around the corner, waiting to appear and challenge the characters.
Lilac and Tarver are authentic and the development of their relationship is realistic. Amie and Meagan have crafter multi-layered characters that propel the story along and give life to the novel. This is just as much a character-driven story as it is a plot-driven story. Lilac is stubborn and defiant, and Tarver is impatient and resourceful. Since they're the only characters in the story for 90% of it, they held their own in the novel and kept the reader interested.
The prose is very descriptive and the dialogue surprisingly minimal. Amie and Meagan rely on imagery and description and seamless internal dialogue to paint their world, and it's impossible for the reader to not enjoy this book. It's wonderful, and it's a trilogy that I'm very eager to continue!