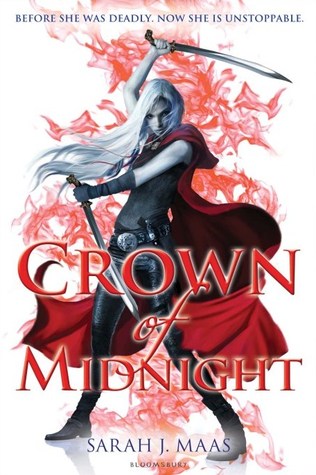 Crowned by Evil.
Bound by Duty.
Divided by Love.

Celaena Sardothien, royal assassin, is the King of Adarlan's deadliest weapon. She must win her freedom through his enemies' blood – but she cannot bear to kill for the crown. And every death Celaena fakes, every lie she tells, put those she loves at risk.

Torn between her two protectors – a captain and a prince – and battling a dark force far greater than the king, Celaena must decide what she will fight for: her liberty, her heart or the fate of a kingdom…
Crown of Midnight is the second book in this six-book series and this book really propels the story forward. About half way through the book, one of the main characters dies (sorry for the spoiler) in a truly gruesome way, and from that point on, I couldn't put the book down.
Sarah J. Maas manages to make each chapter important. Something happens in every chapter that keeps the reader engaged and interested, and sometimes that's hard to do in fantasy. There's a trap that some fantasy authors fall into and it's called the 'journeying from Point A to Point B' trap. AKA the main character needs to get somewhere so the reader must endure 100 pages of boredom to get there. And although there isn't a lot of travelling for Celaena in this book, there was still no point in the novel where I was bored. I was always engaged in the story and in the characters and I was desperate to keep reading. I haven't yet read Heir of Fire (the third in the series), but fingers crossed there's no boring travelling in that book either.
The magic in this book seemed much better explained and believable than in the first book, and to be honest, the magic kind of bored me in the first book. But in Crown of Midnight, the world was more fleshed out and Celaena came to understand it a lot more.
Celaena was so much more deadly and badass in this book. She was actually an assassin. She embraced her Fae heritage and she embraced her training as an assassin and she killed many, many people, all of whom were completely deserving. Celaena is much more three-dimensional character, and I'm looking forward to seeing her character evolve over the next four novels. Sarah J. Maas has written these action scenes and murder scenes with enough description and a fast-enough pace to readers reading.
My Score: 9/10