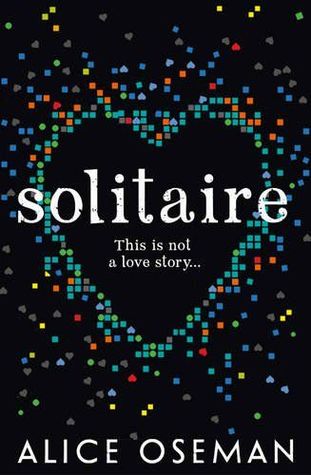 In case you're wondering, this is not a love story.

My name is Tori Spring. I like to sleep and I like to blog. Last year – before all that stuff with Charlie and before I had to face the harsh realities of A-Levels and university applications and the fact that one day I really will have to start talking to people – I had friends. Things were very different, I guess, but that's all over now.

Now there's Solitaire. And Michael Holden.

I don't know what Solitaire are trying to do, and I don't care about Michael Holden.

I really don't.
Finally. A YA novel about something other than sex, drugs and alcohol – a novel that I could recommend to a 12 year old without their mother needing to read it first to check it's appropriate. My respect goes to Alice Oseman, who is only 19 years old and managed to write this clever, insightful, and completely-relevant-to-today's-society story.
The main character is refreshingly pessimistic and enjoys spending time by herself and avoiding social interaction with others. Tori is believable, three dimensional, and realistic to teenagers today. Her 'too cool for school' classmates remind me of my high school experience and had me laughing that teenagers still act like that. Do high school girls still talk about which celebrity they find hotter? Is that still a thing?
'Solitaire' was a very unique plotline, but the blurb didn't give any information about that. In case you're wondering, Solitaire is an online blog that orchestrates pranks on people at Tori's high school, and then publishes evidence of it on the blog. At first it's harmless, but then it goes too far and people are hurt.
I read this in only a few hours, because Tori's voice is conversational and real and I couldn't quite put the book down. This novel incorporates technology and social media and highlights how dominant it is in a teenager's life. I recommend this book not just to teens or tweens, but to anyone who has ever attended high school.
My Score: 9/10