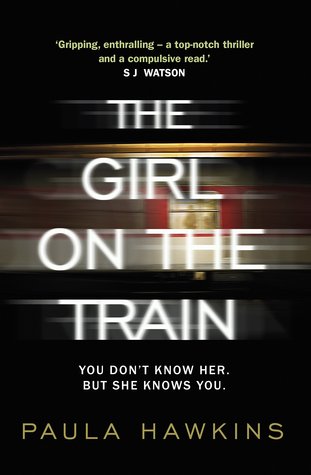 Rachel takes the same commuter train every morning. Every day she rattles down the track, flashes past a stretch of cozy suburban homes, and stops at the signal that allows her to daily watch the same couple breakfasting on their deck. She's even started to feel like she knows them. "Jess and Jason," she calls them. Their life—as she sees it—is perfect. Not unlike the life she recently lost.

And then she sees something shocking. It's only a minute until the train moves on, but it's enough. Now everything's changed. Unable to keep it to herself, Rachel offers what she knows to the police, and becomes inextricably entwined in what happens next, as well as in the lives of everyone involved. Has she done more harm than good?
This book is a lot like Gone Girl, in the sense that you get to the end of the story, and everything you thought you knew about the main character was wrong. You're completely blindsided. And then you're left sitting there wondering how you missed it.
At first, you're a bit confused, because you're trying to work out how Rachel, Amy, Megan, Jess etc all fit in together. And then you work it out and you run with it, because you want to know what happened to Megan. For a while there, you question Rachel. But you know that since she's the main character and you're supposed to sympathise for her, that she didn't do anything to Megan. And Paula is able to achieve this through the realistic representation of multiple point of views. Oh, and an extremely flawed character.
Rachel is an alcoholic and is weak. She can't give up alcohol, no matter how many times she tries. Does she even want to give it up? The reader keeps thinking it's going to happen – we're inclined to read a flawed character and hope that their flaws disappear over the course of the novel. But Rachel's flaws don't. Kudos to Paula for maintaining Rachel's faults throughout the entire novel. This makes us question Rachel at times, and it makes us not want to like her. It makes us doubt her actions, and as a result, we grip the novel in frustration. And that's extremely rare. It's rare to have a main character who is more unlikeable than likeable. To be honest, I really couldn't stand Rachel, but that's actually because Paula is a really good writer.
The mystery surrounding Megan had me interested, but there were so many other aspects of the story that kept me reading. Rachel's relationship with her ex-husband, and his relationship with Amy. Megan's relationship with her boyfriend, and his friendship with Rachel. These characters all connected, and there were times when I was reading this where I'd grit my teeth and think 'What the hell are you doing? I don't understand!'
If you love thrillers or crime novels, you'll love this. And if you're one of those people who don't usually like to read, but you sucked it up and read Gone Girl, then you'll love this book too. My brother said to me a few weeks ago: I want to read clever books. Books that have me guessing. And so I gave him this book.