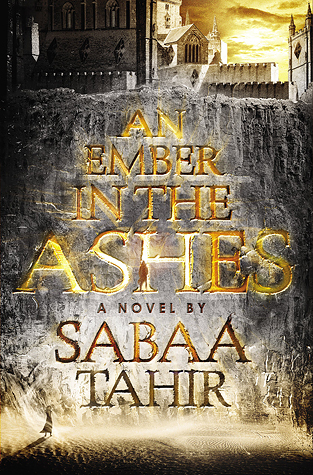 Laia is a slave. Elias is a soldier. Neither is free. Under the Martial Empire, defiance is met with death. Those who do not vow their blood and bodies to the Emperor risk the execution of their loved ones and the destruction of all they hold dear.

It is in this brutal world, inspired by ancient Rome, that Laia lives with her grandparents and older brother. The family ekes out an existence in the Empire's impoverished backstreets. They do not challenge the Empire. They've seen what happens to those who do. But when Laia's brother is arrested for treason, Laia is forced to make a decision. In exchange for help from rebels who promise to rescue her brother, she will risk her life to spy for them from within the Empire's greatest military academy.

There, Laia meets Elias, the school's finest soldier—and secretly, its most unwilling. Elias wants only to be free of the tyranny he's being trained to enforce. He and Laia will soon realize that their destinies are intertwined—and that their choices will change the fate of the Empire itself.
An Ember in the Ashes is one of those books that reaches social media stardom almost out of nowhere. I read about this book a few months ago, but no one else seemed to know what it was or what it was about. And now, it's #2 on the NYT bestseller list and it's all over my Twitter news feed.
Both the US and UK covers of this book are amazing. The US cover almost looks like a Roman, gladiator setting (which is on point with the Trials fought in the book), and the UK cover makes it look more dystopian and young-adult-friendly. Both of these covers work for the audience and for the storyline.
What I loved most about this book is that the main character is treated exactly how she should be in that time period. When you have a fantasy novel set in a time period where woman are treated terribly, the main female character always seems to somehow avoid trouble. But not in this book. Laia is tortured both physically and mentally, and is treated like the other female slaves that surround her. And Sabaa manages to capture her fear through subtle actions and through Laia's motivations.
The attraction in this story between Laia and Elias isn't overwhelming. There is actually two boys in the story who Laia finds herself attracted to. But in saying that, it doesn't feel like a love triangle. To be honest, nothing really happens, because in this kind of world, she doesn't really have time to be chasing boys. And I love that. It's much more realistic.
This book evokes anger in the reader. The world is unrelenting and the Commandant (a female ruler in control of Laia) is ruthless and a psychopath. There's the imminent threat of rape throughout the entire novel, and you get the feeling that Sabaa wouldn't save her characters just because they're the main characters. She'd do what's right by the book and by the Roman-like world she's created.
It hasn't been confirmed that there is a sequel to this book, but enough of it is left open-ended that the reader can secretly hope for the story to continue. All of the attention that this book has received (not just in Australia but internationally) will mean that the publishers will probably want to publish a sequel.