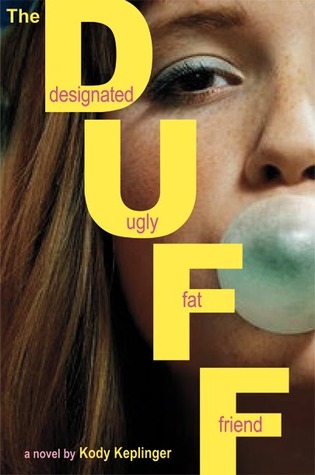 Seventeen-year-old Bianca Piper is cynical and loyal, and she doesn't think she's the prettiest of her friends by a long shot. She's also way too smart to fall for the charms of man-slut and slimy school hottie Wesley Rush. In fact, Bianca hates him. And when he nicknames her "the Duff," she throws her Coke in his face.

But things aren't so great at home right now, and Bianca is desperate for a distraction. She ends up kissing Wesley. Worse, she likes it. Eager for escape, Bianca throws herself into a closeted enemies-with-benefits relationship with him.

Until it all goes horribly awry. It turns out Wesley isn't such a bad listener, and his life is pretty screwed up, too. Suddenly Bianca realizes with absolute horror that she's falling for the guy she thought she hated more than anyone.
I enjoyed reading this novel much more than I thought I would – I actually devoured it in one sitting. Perhaps it's because it doesn't even seem like a YA novel. There are quite a few explicit sex scenes and this novel deals with some deep issues like child abuse. It was refreshing to have such young main characters deal with adult issues.
The main character is feisty and witty and actually has real personal issues that justify her behaviour. I mean, sure, she's a heartless bitch, but it makes sense since her Dad is an alcoholic and her mum, well, I'm still not really sure about her mum. She's flaky, to say the least.
I do think there are a couple of flaws with this story. Firstly, the progression of Bianca and Wesley's friends-with-benefits relationship isn't realistic. It happens too fast and Bianca doesn't seem to notice that Wesley's parents are never home. She just seems a little clueless sometimes. Secondly, Bianca's two best friends seem like cardboard cut outs. There was no depth behind them and there didn't seem to be any authenticity to their behaviour or dialogue. They were just there as props. You probably could cut them out of the story and it wouldn't affect it that much.
However, I did like Wesley and Bianca. They were authentic, likeable characters – their motivations seemed justified and their banter back and forth provided some comic relief for the reader. Plus, the ending is soppy and cute and perfect for a teenage audience.
I recommend this to young adult audiences, but also to females who are little older (up to mid 20s). There are some deep issues explored in this novel, and this will resonate with an older target audience.