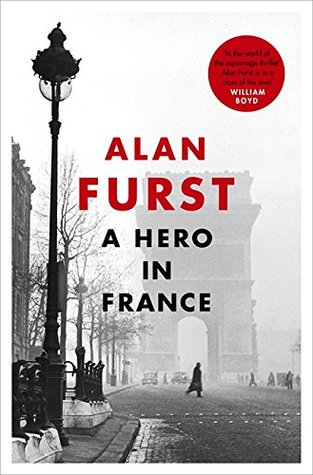 A Hero in France by Alan Furst is a riveting thriller set during the French Resistance in Nazi-occupied Paris. Alan Furst is a master espionage writer, but this is the first novel of his I've read.
Taking place in 1941, Mathieu is the leader of the French Resistance and helps downed British airmen escape back to England. He is highly intelligent, wary, methodical and organised, and his ring of associates together help fight the Nazis during the war. Aiding Mathieu as part of his covert network are Lisette, a seventeen-year-old student and courier; Max de Lyon, an arms dealer turned nightclub owner; Chantal, a woman of class and confidence; Daniel, a Jewish teacher fueled by revenge; Joëlle, who falls in love with Mathieu; and Annemarie, a willful aristocrat with deep roots in France, and a desire to act.
This book contains sections, not chapters, and each section switches between focus characters. For a couple of pages, Mathieu will be the focus character, weaving through underground drains to save British pilots stranded in Europe. And then the section will switch focus to one of his lovers, or helpers, or pilots, or associates, and this new angle provides a different element to the story that is both enlightening and intriguing.
The novel travels between farmhouses, barns and churches of the French countryside, all housing people that are determined to take down the occupying forces of Adolf Hitler. Mathieu is their leader, and he solves hurdles and complications with ease and efficiency.
A Hero In France is fast-paced with slow building suspense and a fantastic plot. Alan writes with as few words as possible, allowing the reader to join the dots themselves and use their imagination. He encapsulates one of the classic writing rules: show don't tell. Alan captures the time period perfectly with historical accuracy and realistic characters.
As the novel progresses, a new threat develops. A spy is tasked with infiltrating the French Resistance to capture Mathieu and his associates, and their lives all start to intersect. I recommend this novel to all readers interested in thrillers and crime novels. It requires some concentration and some prior knowledge of the French Resistance to fully enjoy the story.
Thank you to Hachette for sending me a review copy of this book.