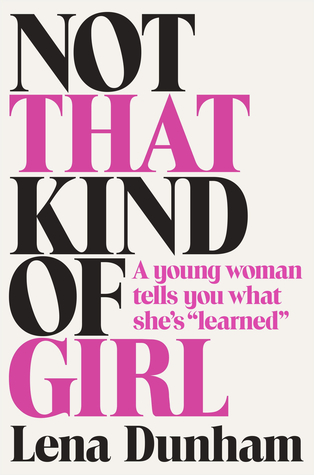 These are stories about getting your butt touched by your boss, about friendship and dieting (kind of) and having two existential crises before the age of 20. Stories about travel, both successful and less so, and about having the kind of sex where you feel like keeping your sneakers on in case you have to run away during the act. Stories about proving yourself to a room of 50-year-old men in Hollywood and showing up to an outlandishly high-fashion event with the crustiest red nose you ever saw.
Lena Dunham is known for her television series, Girls, her confidence in Hollywood, and her comedic personality. And this non-fiction book goes behind-the-scenes and helps you understand how she became who she is.
Not that Kind of Girl is funny, insightful, intriguing, and engaging. Lena is a clever writer – the story often diverts on tangents, but I was never annoyed or frustrated. Instead, I relished the tangents because they proved to be more hilarious than the original story Lena was telling.
This book is decorated with hilarious cartoon drawings to accommodate Lena's stories. The funniest cartoon is probably the picture of the curtains featured three quarters of the way through the book. The caption reads: 'The curtain my date wiped his dick on'. Lena doesn't shy away from personal stories – in fact, I'd say 80% of the stories in the book are related to/about sex. Sometimes you wonder if the stories are actually true because you can't help but think, surely the guy didn't do that? Or surely that couldn't happen, right? Who knows. But it's hilarious either way.
Lena separates the sections of her book and revolves them around different aspects of her life, for example body, work, food etc. Each chapter provides an insight into her life and is illustrated with essays, lists, or emails. The differing ways that Lena tells her stories allows for an engaging read. If the book was entirely made up of essays, then I suspect the reader would get a little bored. But Not that Kind of Girl is written with effortless prose. I'm going to finish my review with the below quote:
"If I could take what I've learned and make one menial job easier for you, or prevent you from having the kind of sex where you feel you must keep your sneakers on in case you want to run away during the act, then every misstep of mine was worthwhile."
My Score: 9/10